Smokescreen is proud to be part of Zscaler
Learn More
Deception Technology for Detecting
Lateral Movement
We use deception technology to blanket your network with decoys to catch the serious bad attackers. You only get 100% confirmed alerts so you can focus on stuff that matters.
Happy customers in 18 geographies covering over 1.5m endpoints.
AVERAGE CUSTOMER SUCCESS RATING - Q3 2019
9.3 / 10
Simple Implementation
Up and running in minutes, not months
Launch your first deception campaign using ready-made decoys. Focus on detecting threats instead of wasting countless man-days configuring a new solution.
Schedule a demo
Low false positives
All the signal. None of the noise.
Any interaction with an IllusionBLACK decoy is a high-confidence indicator of a breach. When you get an alert, you know it's the real deal.
Schedule a demo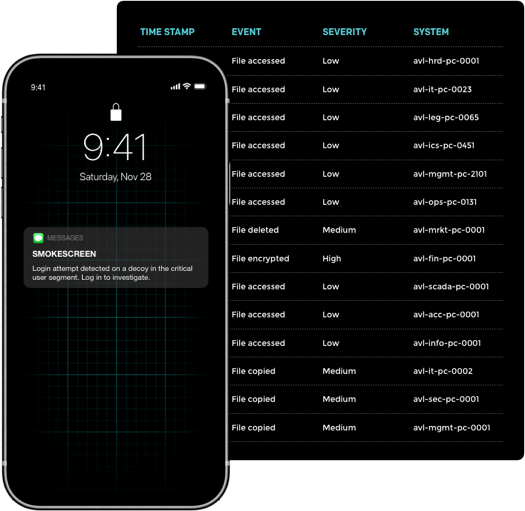 Easy to use
Save countless hours of investigation
Automated forensics and root-cause analysis in two clicks. Accomplish more in a fraction of the time with half the team.
Schedule a demo
Orchestration
Stop threats while you sleep
Out-of-the-box integrations with SIEMs, Firewalls, EDRs, Proxy, threat intel feeds, SOAR, and more. Forward events, contain threats and enrich alerts without any manual effort.
Schedule a Demo
What does deception cost?
Much less than not knowing that someone's about to breach your customer database.
See pricing plans